How to buy a Sculpture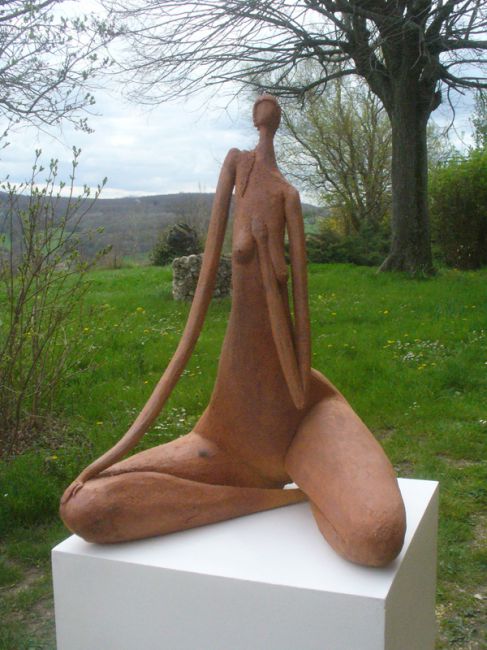 Choice of sculpture
Prices are usually indicated, but if they are not, as is often the case with the sculptures shown in accompaniment to the texts, then just contact me to know them. If the sculpture is no longer available, you can still contact me to discuss a possible commission if this sculpture attracts you especially, because, even if I do not wish, nor am I able to redo it identically, it is often possible to redo one in the same spirit.
If a sculpture attracts you irresistibly and its price is not accessible to you, let's discuss it.
It is not reasonable for money to make an acquisition impossible. Also I am very open to any solution of arrangement, payment facilities, even barter or other solution to invent so that marriage with you can be done if it is the right time.
Delivery and Installation of Sculptures
The weight or clutter of my sculptures can sometimes impress.
You should know that I can make the delivery of the sculptures, free of charge within a radius of 50 km around the Workshop if I have a trip that lends itself to it, or if not for a small price (the cost being calculated on the basis of 0.30 euros/km and 10 euros/hour of my time).
For deliveries that are too remote for me to make myself at an acceptable cost (although I can go very far for the pleasure of installing a sculpture), I use the services of a trusted forwarder who charges reasonable prices. I provide a quote very quickly in this case.
For some sculptures a little heavy, and especially for my large Murales sculptures, I also propose a performance of Installation of The Sculpture in its place in your home under the same price conditions as the delivery.
Bronze declination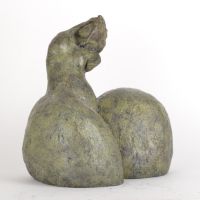 For the vast majority of my Ceramic Sculptures, it is possible to make a Bronze version.
This new Sculpture can be a very faithful copy, or it can be reworked in some detail by sculpting the wax model during the process. It can also be offered in a different dimension, apparently unlimited to large formats, thanks to technologies incorporating a digitization of the work.
For each application, a quote can be drawn up within a few days because we have a very reliable and competent foundry in Crest (Barthélémy Foundry).
To get an order of magnitude, for the "Cally" Sculpture below (28x20x28cm), the price of ceramic sculpture is 1,300 euros, and that of its Bronze version of the same dimensions (above) is 3,300 euros.

Outdoor installation
Almost all my sculptures are no longer gelards.
They come out of an oven whose cooking characteristics for the clays used allow them to stay outdoors all year round without suffering, and instead by acquiring a typically natural patina that suits them very well.
Solidity, Fragility and After-Sale Service
My ceramic sculptures in Sandstone are very hard and solid.
But on the one hand, I do not limit myself to aiming for resistance and allow me forms sometimes very flute, and on the other hand, they are also very "alive".
Even if life itself is probably "indestructible", living things can sometimes be fragile…..
And then, every parent can only have a sharp idea of what a particularly "living" child can cause fears, for example when he makes the pig hanged on a trapeze or runs down the slope on his small bike …
Accidents happen sometimes.
More often than not, this is not dramatically serious; thus, if by misfortune the child breaks an arm falling from his trapeze, there is no question of considering him lost and, if all goes well, he will live his future life with a memory that will not spoil it for him.
The same goes for my sculptures.
Aware that a sudden shock or a fall are always possible, I have worked a lot on repair techniques and, in collaboration with Isabelle Peugnet (professional painter and mineral colors), we perform "miracles" almost as well as in nature.
Thus, if the accident ever occurs, in the vast majority of cases, we can carry out repairs of professional quality for a very reasonable price.